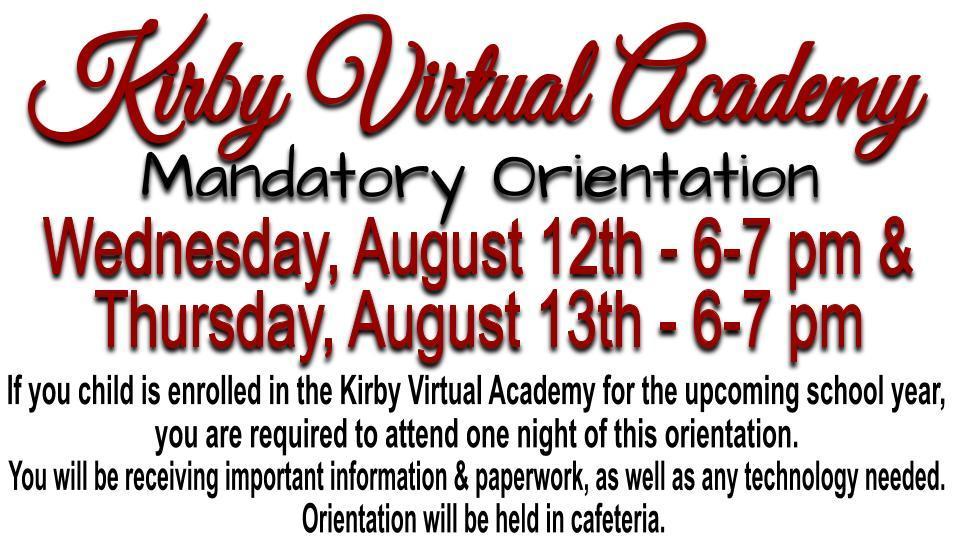 Kirby Virtual Academy Mandatory Orientation
Jessica Pinkerton
Friday, August 07, 2020
Kirby School District has scheduled 2 nights of mandatory orientation for any parents and students who have enrolled in our Kirby Virtual Academy. Wed, August 12th and Thurs, August 13th from 6pm to 7pm.
You do not have to attend both nights, but must attend one of the meetings. We are offering 2 nights to make sure we could meet the needs of as many people as possible. There will lots of important information shared & important paperwork to complete.
We will also be passing out any technology needed as well.
You can email or call us at 870-398-4212 with any questions.
Pike Palmer, Superintendent - pike.palmer@kirbytrojans.net
Jason Burns, High School Principal - jason.burns@kirbytrojans.net
Dolores Cowart, Elementary Principal - dolores.cowart@kirbytrojans.net